Costume making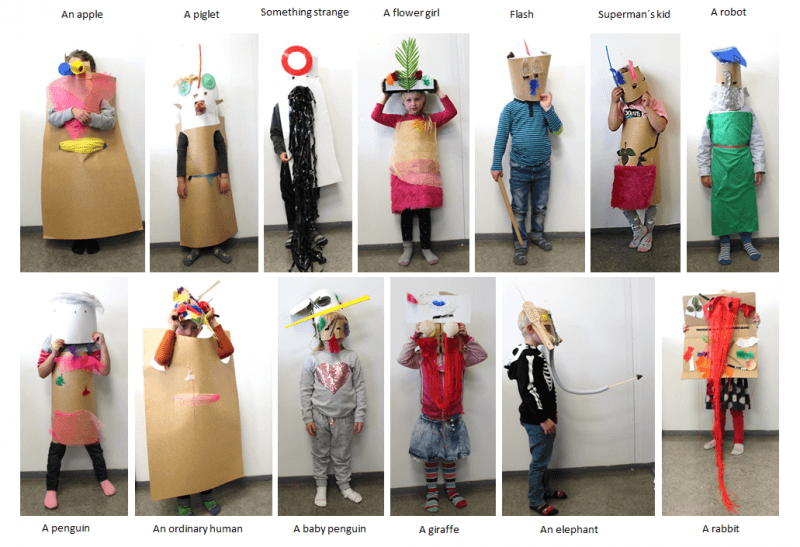 Reykjavik School of Visual Art invited the preschool Saeborg to participate in a workshop with Swedish artist Anna Parry, who visited Iceland in connection with CCE (http://www.culturalchildrenofeurope.com ) Along with Anna two preschool teachers from Saeborg took part and 15 children. The main purpose was to make an opportunity for the children and the parents to work together, have fun and create in an artistic and sustainable way.
Aims and Objectives
Collaboration between home and school, sustainability
Description
The children chose for themselves one animal, representing themselves. Then they chose one super power for their animal. The teacher emphasized that the super power was not supposed to be like Spiderman or Hulk´s super power, but more like being super active in riding a bike or being super helpful. Then they made their own costumes, and the ideas and the outcomes were so amazing, and everything worked so well, the teachers from Saeborg decided to take the project even further when the workshop was over. They had been interested in a long time in having the kids make their own costumes for Ash Wednesday. They had unsuccessfully tried to encourage the parents to make costumes at home, so they decided to make it happen in the school. The project was successful and the next year they decided to take it even further. Every year the school has a parent´s week, and that year they decided to use the parent´s week for a costume-making week, where the parents were supposed to assist their children in making costumes. They set up a big work space in the school´s hall, provided the material and the teachers were there just for guidance. Almost all the children´s parents participated, and for the few children who didn't get assistance from their parents got to choose all the material they wanted to use and bring it home. The project was encouraging and empowering for the parents, who thought they were lacking the talent and the skills to make costumes with their children. Everybody was active, making things, everything so visual and the atmosphere so encouraging that the lack of for example ability to speak the language simply wasn't an issue. The teachers showed some simple techniques and solutions and emphasized that the children were fully capable of doing so many things, and the parents too. This project wasn't supposed to be about perfect sewing or something that would last for a long time.